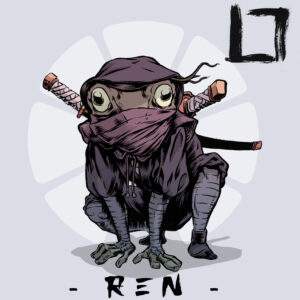 We are pleased to be able to bring to life the characters of Lilipad 7, a fantasy world created by renowned illustrator, Conor Nolan.  Based in a fantasy pseudo-Japanese setting, these quirky amphibians have inspired everything from street art to tattoos! And now a range of 75mm miniatures.
You can see more of Conor's work on his website https://www.conornolan.com/
Ren
Ren is the beating heart of the Lilypad 7. A lost princess unaware of her significance in the fate of her kingdom, her destiny is intertwined with evil forces that she must triumph over.
Trained by Oki, a warrior and fellow member of the Lilypad 7, Ren is able to defend herself in all situations. While she barely remembers her parents, she grows to know their strength as she feels their presence within her.
Large Scale Collector's statue. 75mm to the eyes with base.
Design and Concepts by Conor Nolan
Sculpted by Joaquin Palacios
Manufactured by Zealot Miniatures Ltd.
Painting by Craftworld Studios

Hand cast in high quality resin at large scale. Supplied unpainted and may require assembly or clean up. This product is not a toy and is not intended for persons under the age of 8.