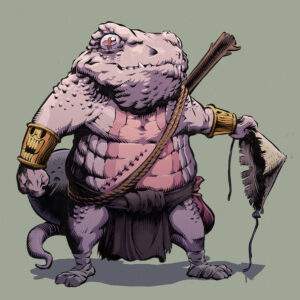 We are pleased to be able to bring to life the characters of Lilipad 7, a fantasy world created by renowned illustrator, Conor Nolan.  Based in a fantasy pseudo-Japanese setting, these quirky amphibians have inspired everything from street art to tattoos! And now a range of 75mm miniatures.
You can see more of Conor's work on his website https://www.conornolan.com/
Croc
A toad with crocodile attributes. A violent brute and effective henchman. The sensible part of his brain was rattled long ago, and never returned.
Large Scale Collector's statue. 75mm to the eyes.
Design and Concepts by Conor Nolan
Sculpted by Romain Van Den Bogaert
Manufactured by Zealot Miniatures Ltd.
Painting by Craftworld Studio

Hand cast in high quality resin at large scale. Supplied unpainted and may require assembly or clean up. This product is not a toy and is not intended for persons under the age of 8.